Samaritan's HomeVisit Physicians is a physician house-call practice employing physicians, physician assistants, and nurse practitioners.
Reinforcing the organization's commitment to providing more care options at home, Samaritan launched HomeVisit Physicians under the leadership of Director Kenneth Giacobbo, DO.  Dr. Giacobbo is board certified in internal medicine, hospice and palliative care, and oversees a team of physicians and nurse practitioners. Read Dr. Giacobbo's full bio
For more information or to make an appointment, please call Samaritan at (800) 229-8183. 
"Receiving medical care at home is critically important to our patients. We know that having Dr. Giacobbo and his team of top-notch physicians and nurse practitioners providing care without the need of an office visit, will reduce patient stress and anxiety and improve their quality of life," said Dr. Stephen Goldfine, MD, chief medical officer.
Improving Quality of Life Through Care at Home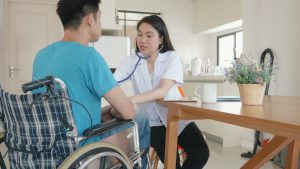 Our care team will visit patients in their homes, assisted-living facilities, skilled nursing facilities, retirement homes, or retirement communities in Burlington, Camden, and Gloucester counties, taking the following treatments and services to them:
Complete History & Physical Evaluations
Geriatric Home Evaluations
Hospice & Palliative Care Evaluations
Electrocardiography (EKG)
Pulmonary Function Testing
Medication Orders & Adjustments
Arrangement of Specialist Consultations
24 Hour Access to Physician
Notification to Primary Care Physicians of the assessment & treatment administered at every medical visit
Communication with Visiting Nurse Organizations regarding treatment plans
Updates of patients' current medical conditions provided to family members or caregivers